Special Online Offer

2 Weeks FREE!
About Our Business
Welcome to Laguna Beach Dojo. We appreciate the opportunity to serve you and your family. Master Jeff Kash is a 6th degree black belt and has proudly served the Laguna Beach community and its families for the last 20 years! With classes for all ages, including family classes, we have a flexible schedule that allows even the busiest of families to participate in our amazing programs. Whether you want yourself or your kids to become more confident, focused or disciplined, or even if you just want to find a fun family activity, we are here to help. Thank you for visiting the Laguna Beach Dojo website and we hope to see you soon!
Why Choose Laguna Beach Dojo?
Learn to be immune to peer pressure
The confidence that is developed in martial arts training will help adults and children alike be more confident in making good choices.
Create Self Discipline that will help in all aspects of life!
Consistency and follow through towards achieving worthwhile goals teaches something beyond what the school systems teach today.
Like anything in life worth achieving, it takes a concerted effort and consistent dedication to accomplish.
Learning these values at any age is hugely beneficial and is especially helpful in developing good habits for children to set them on the path of success for school and life!
Instructor/Owner Jeff Kash
Master Kash is known for his kind, fun, and engaging approach to teaching as well as his unique ability to help students unlock their full potential. His students realize not only the physical benefits of practice but also the wisdom, discipline, and confidence that can come with a commitment to training. Above all, he enjoys seeing his students grow and flourish in and out of the classroom.
In addition to teaching Karate through the Laguna Beach Dojo, Master Kash is a Founding Member and the Head of Educational Development at AchieveMartialArtsAcademy.com a new platform for online Kempo instruction designed to help anyone achieve a Black Belt whether as a supplement to in-dojo training or exclusively online.
Master Kash has developed and actively teaches self-defense courses customized for different audiences including security professionals, families, community organizations, realtors, assault victims, and young people attending university/college. He also regularly runs after school programs and summer camps for elementary and middle school aged children.
Master Kash was twice awarded instructor of the year, was a winner of multiple instructors' division sparring championships, led instructor development summits and taught aspiring instructors the skills and knowledge to open their own studios. Between 2010 and 2015, Master Kash co-owned and managed five other studios around Orange County.
In his spare time, he engages in adventure racing, cross-fit, yoga, and mountain biking, off-roading, real-estate development, and continues his own martial art practice, studying under Master Josh George, 7th Degree Black Belt.
Master Kash earned a Bachelor's Degree from Oregon State University in Construction Engineering Management and actively brings that knowledge into the classroom by illuminating the relevant principles from engineering and physics that make certain techniques so effective.
Why Choose Laguna Beach Dojo?
Improve Focus
Develop self discipline by implementing small cumulative habit shifts. Use the skills you learn during martial arts classes to become more focused in your daily life.
Build Confidence
Every rank requires a number of new skill sets and in the development and mastery of each one, the natural byproduct is increased confidence.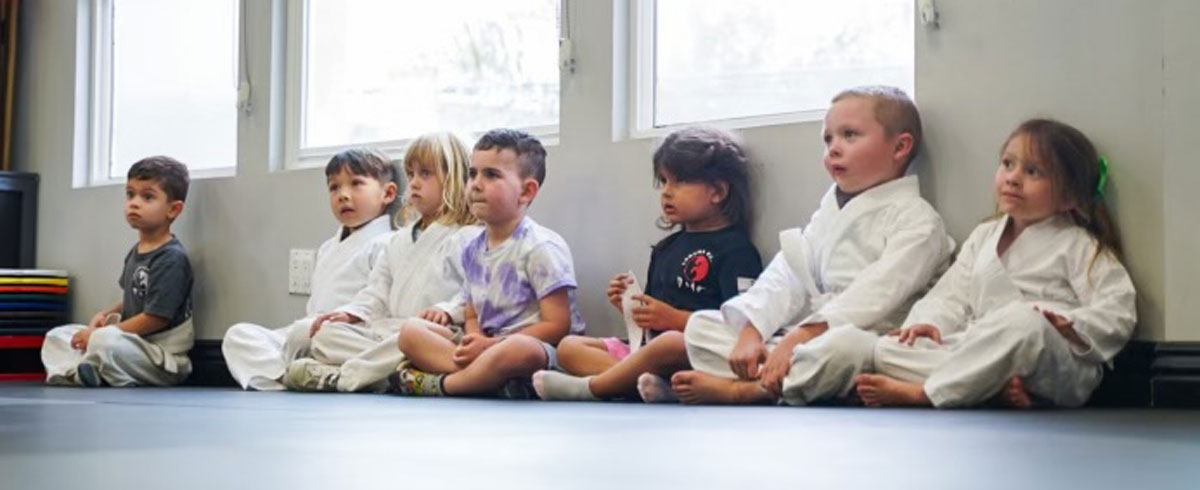 Our Martial Arts Team Takes Great Pride In The Reviews We Receive
See What Our Community Members Say About Our Programs
Shawn Bullington
It's hard for me to put into words how beneficial Laguna Beach Dojo has been for me. I have a professional life and I work quite a bit. Laguna Beach Dojo has helped to keep me present, focused, and motivated. The things I have learned at the Dojo translate almost every single day in many of my real life scenarios. I haven't just been taught how to defend myself, I've been able to grow more than I ever thought was possible, more than I even realized that I needed. I know its cliche, but if I could give more than 5 stars, I would. Keep up the positive and productive work within our community. Thanks, Shawn B.
Corbin Radabaugh
Our son has been training with USSD Laguna Beach Dojo for less than a year but the difference in showing respect and mindfulness in dealing with adults and his peers was evident right away. He loves the art and is not only inspired every day to do his best, he also wants to learn to teach others. He has set goals for himself and is on target to achieve them thanks to Master Kash and his team. Everyone can benefit from his great teachings.
Stephanie Wander
Master Kash (and his staff) is the kind of teacher/coach you want for you and your kids. They start as young as three, but teach students of all ages and the the adult program is excellent too. Master Kash knows the Martial Art deeply, has the ability to impart it to different kinds of learners, and he knows how the practice can positively mold and shape anyone at any age. Every part of my life - fitness, self-esteem, connection with community, ability to handle adversity - is better because I joined the LB Dojo. I will be sharing this special place with my son too once he's old enough!